all-season tyres
Apollo
205/55 R16 91H Alnac 4G All Season
Manufacturer:

Apollo

Profile:

Alnac 4G All Season

Size:

205/55 R16 91 H

Speed index:

H up to 210 km/h

Load index:

91

Category:

all-season tyres

EAN:

8714692293818

Kraftstoffeffizienz

C

Externes Rollgeräusch

68

Nasshaftung

C

Special Features:
Order online and have it delivered to your desired address
Reserve and mount on spot
Description
Alnac 4 G All Season - High performance all season tyre.

- Summer and winter side for the best possible performance in all weather conditions.
- Asymmetrically shaped outer longitudinal groove for extra stability.
- Low air ratio of the outer shoulder for extra grip on dry surfaces.
- High air ratio of the inner shoulder for superior water dispersal.
- Optimal pressure distribution for even wear and hence longer tyre life.
- Light-weight tyre for low fuel consumption.
- Interconnected shoulder blocks for low sound levels.



Apollo tyre warrantee
The Apollo tyre warrantee is valid for 2 years starting on the purchase date up to a minimum tread depth of 1.6 mm. The warranty includes all Apollo passenger car, SUV, light truck and 4x4 tyres with a purchase date from 01.09.2016 onwards.
The following are covered:
- Tyre damages due to accident
- Collision damages e.g. dent due to hitting a curb
- Irreparable tyre damages e.g. running in a screw or nail
Excluded are:
- Wilful damage of the tyre
- Improper use e.g. in case of driving when pressure is too low or in case the load is too high
- Irregular use of the tyre e.g. by driving on a racetrack
- Uneven profile due to a wrong setting of the axle geometry or faulty fitting of the tyres
- Reimbursement of other follow-up costs like fitting, towing costs, material damages or personal injuries
Our services:
- In case of wear of up to 51% of the profile your Apollo tyres are replaced for free
- In case of wear from 50% up to 1.6 mm you get a 50% discount on an Apollo tyre
Download of the warranty card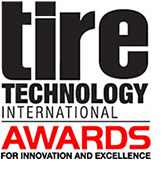 Apollo – Winner of Technology Awards
The "Tire Technology International Awards for Innovation and Excellence" is awarded each year as part of the Tire Technology Expo taking place in Germany.
The jury consists of an expert body from the tyre industry and awards this price to the company which has shown special achievement in the area of innovation and technology development.
Apollo Tyres has already received the reward as the best tyre manufacturer of the year twice (2013 and 2015).
Tyre labelling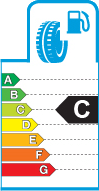 C1
Tyre labelling
Starting on November 1st, 2012 the new European Tyre Labelling Regulation EU/1222/2009, short EU Tyre Label, applies. This regulation applies for all newly produced tyres from CW27/2012. The EU Tyre Label informs about the criteria fuel efficiency, wet grip and external rolling noise, and is binding for all tyres of cars, light trucks, and trucks (C1, C2 and C3) across the EU member states. The aim of the EU Tyre Label is to increase the safety, environmental protection and economic efficiency of road transport by promoting fuel-efficient and safe tyres with low noise levels. Next to the EU Tyre Label you should continue to include relevant tyre tests as an important factor in your buying decision, as the new EU Tyre Label only tests three important criteria. This means that for instance neither the driveability of summer tyres on a dry road nor the grip on snow of winter tyres is tested.
The three criteria and valuation classes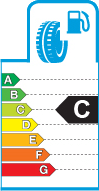 C1
Fuel Efficiency
The categorisation of fuel efficiency is made on a scale of seven classes: from A (greatest efficiency) to G (lowest efficiency), whereby class D is not used. An improvement from one class to the next more efficient class means an approximant saving of 0,1 l fuel per 100 km.


C1
Wet Grip
The wet grip is subdivided into the classes A (shortest breaking distance) to G (longest breaking distance), whereby classes D and G are not used. When going 80km/h on a wet road, the difference in the breaking distance between adjacent categories (from one class to the following better class) is between 1 and 2 car lengths (3-6m).


C1
External Rolling Noise
The noise emission of a tyre has an effect on the total noise level of the vehicle and does not only influence one's own riding comfort, but also the noise pollution of the environment. In the EU Tyre Label the external rolling noise is divided into three categories, measured in decibel (dB) and compared with the European noise emission limits for external rolling noises of tyres. The general rule hereby is: The fewer black lines there are, the lower the external rolling noise as measured according to the EU limit.
Customer reviews (18)
Wet traction characteristics
Wet traction characteristics
Author: Volker S
Wet traction characteristics
Author: Tatjana R
Wet traction characteristics
Author: Bjarne Michael H
Wet traction characteristics
Author: Heike B
Wet traction characteristics
Author: Iris G
Wet traction characteristics
Author: Wolfgang B
Wet traction characteristics
Author: Jakob S
Wet traction characteristics
Author: Rainer S
Wet traction characteristics
Author: Marco S
Wet traction characteristics
Author: Jan K
Wet traction characteristics
Author: Lydia B
Wet traction characteristics
Author: Gennadi G
Wet traction characteristics
Author: Fitim B
Wet traction characteristics
Author: harald B
Wet traction characteristics
Author: Hans-Martin K
Wet traction characteristics
Author: Marlies W
Wet traction characteristics
Author: Markus F
Wet traction characteristics
Author: Juri P
Stationärer Kauf

Here you find our branches with available stock. If you can't locate your favorite branch you may order this product in our online shop now. Delivery to your favorite branch is possible, please select this branch during checkout.
All prices are VAT inclusive.
All prices are order prices from our central warehouse. The article is also available at the displayed price in our stores.
* Delivery within Germany (except islands) is free from 1 motorcycle tyre, 1 rim or 1 complete wheel. For car tyres, off-road tyres or van tyres the delivery is free from 2 tyres or more.Please note that we can currently only deliver engine oils in Germany. For delivery costs within Europe, please see our freight costs table.

1An item that is marked as "In stock" leaves the stock within 2 working days after receipt of payment. The actual shipping time may vary in individual cases, especially at seasonal times.