winter tyres
Kumho
195/65 R15 91T WP51
Manufacturer:

Kumho

Profile:

WP51

Size:

195/65 R15 91 T

Speed index:

T up to 190 km/h

Load index:

91

Category:

winter tyres

EAN:

8808956147655

Kraftstoffeffizienz

E

Externes Rollgeräusch

70

Nasshaftung

C

Special Features:

Customer reviews (4) »
ADAC Motorwelt 10/2017
Test results (1) »
Order online and have it delivered to your desired address
Reserve and mount on spot
Description
- Excellent performance on snowy roads
- Optimized performance at low temperatures
- 3D snow lamellas
- Improved water displacement due to transverse grooves
- Optimum handling and excellent braking performance due to high technological standards
Tyre labelling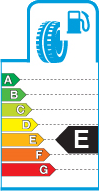 C1
Tyre labelling
Starting on November 1st, 2012 the new European Tyre Labelling Regulation EU/1222/2009, short EU Tyre Label, applies. This regulation applies for all newly produced tyres from CW27/2012. The EU Tyre Label informs about the criteria fuel efficiency, wet grip and external rolling noise, and is binding for all tyres of cars, light trucks, and trucks (C1, C2 and C3) across the EU member states. The aim of the EU Tyre Label is to increase the safety, environmental protection and economic efficiency of road transport by promoting fuel-efficient and safe tyres with low noise levels. Next to the EU Tyre Label you should continue to include relevant tyre tests as an important factor in your buying decision, as the new EU Tyre Label only tests three important criteria. This means that for instance neither the driveability of summer tyres on a dry road nor the grip on snow of winter tyres is tested.
The three criteria and valuation classes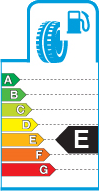 C1
Fuel Efficiency
The categorisation of fuel efficiency is made on a scale of seven classes: from A (greatest efficiency) to G (lowest efficiency), whereby class D is not used. An improvement from one class to the next more efficient class means an approximant saving of 0,1 l fuel per 100 km.


C1
Wet Grip
The wet grip is subdivided into the classes A (shortest breaking distance) to G (longest breaking distance), whereby classes D and G are not used. When going 80km/h on a wet road, the difference in the breaking distance between adjacent categories (from one class to the following better class) is between 1 and 2 car lengths (3-6m).


C1
External Rolling Noise
The noise emission of a tyre has an effect on the total noise level of the vehicle and does not only influence one's own riding comfort, but also the noise pollution of the environment. In the EU Tyre Label the external rolling noise is divided into three categories, measured in decibel (dB) and compared with the European noise emission limits for external rolling noises of tyres. The general rule hereby is: The fewer black lines there are, the lower the external rolling noise as measured according to the EU limit.
Tests (1)
ADAC Motorwelt 10/2017
tested in 195/65 R15 T
Test result: satisfactory
Still quite good on dry road. Weak on wet road. Slightly weaker also on snow.
Customer reviews (4)
Wet traction characteristics
Wet traction characteristics
Author: Peter H
Wet traction characteristics
Author: Thomas K
Wet traction characteristics
Author: Johann K
Wet traction characteristics
Author: Michael S
Stationärer Kauf

Here you find our branches with available stock. If you can't locate your favorite branch you may order this product in our online shop now. Delivery to your favorite branch is possible, please select this branch during checkout.
All prices are VAT inclusive.
All prices are order prices from our central warehouse. The article is also available at the displayed price in our stores.
* Delivery within Germany (except islands) is free from 1 motorcycle tyre, 1 rim or 1 complete wheel. For car tyres, off-road tyres or van tyres the delivery is free from 2 tyres or more.Please note that we can currently only deliver engine oils in Germany. For delivery costs within Europe, please see our freight costs table.

1An item that is marked as "In stock" leaves the stock within 2 working days after receipt of payment. The actual shipping time may vary in individual cases, especially at seasonal times.