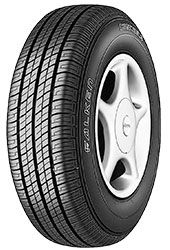 Classic tyres are delivered without rims. The profile shown is a sample representation, which can differ depending on the tire width or sidewall design. Please see the description for further details.
Falken
185/80 R14 91T Falken SN-807 40mm WW
Classic summer tyres
Online purchase
(Purchase online and have it delivered to desired address)
(Purchase online and have it delivered to desired address)
The Falken SN-807 WW is made as a white sidewall tyre just for you: Only after your individual selection and your order white raw rubber is vulcanised in a high-quality procedure. This manufacturing processes results in a technically perfect outcome of each tyre – for your perfect appearance.
Through this individual manufacturing after your order the delivery time is slightly longer. The estimated delivery time for this article can be seen in the footnote.

The tyre is pictured without white sidewall. The exact width of the white sidewall tyre can be found in the article description (example: 50WW in the article description means that the white sidewall tyre is 50 mm wide). The white sidewall tyre is vulcanized onto each tyre according to your individual selection and order.

Please keep in mind:
The white and colour (e.g. red, yellow or multicoloured tyres with circumferential stripes in other colours) sidewall tyres are manufactured for you individually through subsequent vulcanization of suitable rubber mixtures. These tyres are suited for everyday usage in the road transport and do not underlie the European Tyre Labelling Regulation as they are vintage car tyres.

This service only applies to private individuals who are residents of the Federal Republic of Germany. The processing of the financing via PayPal is made in German. Therefore we have not translated the following informations.

Ihre Möglichkeiten zur
Bei reifen.com können Sie bequem in monatlichen Raten zahlen. Der Online-Antrag wird von unserem Zahlungsdienstleister PayPal unterstützt und ist einfach und sicher. Eine Antwort erhalten Sie in Sekundenschnelle - vollständig online, vorbehaltlich positiver Bonitätsprüfung.


Die gewünschte Finanzierungsvariante können Sie im Rahmen des Bestellprozesses auswählen. Ein PayPal-Konto ist dafür nicht notwendig.
Warenwert: ... .*
*Nettodarlehensbetrag zzgl. ggf. fälliger Versandkostenpauschale/Sperrgutzuschlag
**Diese Angaben aus dem Ratenrechner stellen zugleich ein repräsentatives Beispiel gemäß §6a Abs. 3 PAngV dar.
Darlehensgeber: reifencom GmbH, Südfeldstr. 16, 30453 Hannover, Deutschland

Ihr Bestellwert ist noch zu niedrig, erst ab 99€ bieten wir Ihnen die Ratenzahlung powered by PayPal.