Falken
165/65 R13 77T Sincera SN-828
summer tyres
Online purchase
(Purchase online and have it delivered to desired address)
(Purchase online and have it delivered to desired address)
Delivery to a branch or premium partner
Commission Reifencom branch or premium partner garage with the execution of the contract and pay on-site.
Delivery time from 5 working days
ab
47
31
€
Economical, comfortable and safe! Durable tyre with outstanding cost/performance ratio. • New silica compound optimises driving performance in wet conditions and increases resistance to wear. Easy handling and outstanding stability at high speeds. Quiet roll, good driving comfort and attractive design.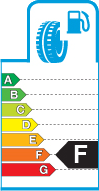 C1
Tyre labelling
Starting on November 1st, 2012 the new European Tyre Labelling Regulation EU/1222/2009, short EU Tyre Label, applies. This regulation applies for all newly produced tyres from CW27/2012. The EU Tyre Label informs about the criteria fuel efficiency, wet grip and external rolling noise, and is binding for all tyres of cars, light trucks, and trucks (C1, C2 and C3) across the EU member states. The aim of the EU Tyre Label is to increase the safety, environmental protection and economic efficiency of road transport by promoting fuel-efficient and safe tyres with low noise levels. Next to the EU Tyre Label you should continue to include relevant tyre tests as an important factor in your buying decision, as the new EU Tyre Label only tests three important criteria. This means that for instance neither the driveability of summer tyres on a dry road nor the grip on snow of winter tyres is tested.
The three criteria and valuation classes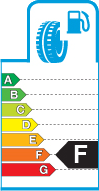 C1
Fuel Efficiency
The categorisation of fuel efficiency is made on a scale of seven classes: from A (greatest efficiency) to G (lowest efficiency), whereby class D is not used. An improvement from one class to the next more efficient class means an approximant saving of 0,1 l fuel per 100 km.


Wet Grip
The wet grip is subdivided into the classes A (shortest breaking distance) to G (longest breaking distance), whereby classes D and G are not used. When going 80km/h on a wet road, the difference in the breaking distance between adjacent categories (from one class to the following better class) is between 1 and 2 car lengths (3-6m).


C1
External Rolling Noise
The noise emission of a tyre has an effect on the total noise level of the vehicle and does not only influence one's own riding comfort, but also the noise pollution of the environment. In the EU Tyre Label the external rolling noise is divided into three categories, measured in decibel (dB) and compared with the European noise emission limits for external rolling noises of tyres. The general rule hereby is: The fewer black lines there are, the lower the external rolling noise as measured according to the EU limit.
This service only applies to private individuals who are residents of the Federal Republic of Germany. The processing of the financing via PayPal is made in German. Therefore we have not translated the following informations.

Ihre Möglichkeiten zur
Bei reifen.com können Sie bequem in monatlichen Raten zahlen. Der Online-Antrag wird von unserem Zahlungsdienstleister PayPal unterstützt und ist einfach und sicher. Eine Antwort erhalten Sie in Sekundenschnelle - vollständig online, vorbehaltlich positiver Bonitätsprüfung.


Die gewünschte Finanzierungsvariante können Sie im Rahmen des Bestellprozesses auswählen. Ein PayPal-Konto ist dafür nicht notwendig.
Warenwert: ... .*
*Nettodarlehensbetrag zzgl. ggf. fälliger Versandkostenpauschale/Sperrgutzuschlag
**Diese Angaben aus dem Ratenrechner stellen zugleich ein repräsentatives Beispiel gemäß §6a Abs. 3 PAngV dar.
Darlehensgeber: reifencom GmbH, Südfeldstr. 16, 30453 Hannover, Deutschland

Ihr Bestellwert ist noch zu niedrig, erst ab 99€ bieten wir Ihnen die Ratenzahlung powered by PayPal.
If you do not want to buy the item in the online shop but on the spot, please select the local-spot-buy option. You can choose your nearest spot conveniently by entering your postal code or city.
Find a store and buy locally
---