WE ARE THERE – with all SERVICES!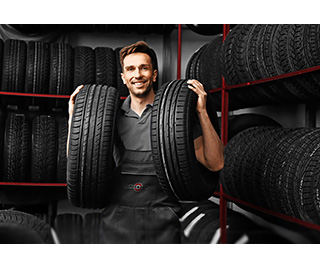 Our online shop as well as our branches and our customer service are available to you - in the framework of phone consultation and orders – also in difficult times!
Since the coronavirus situation is meanwhile changing several times a day, we are constantly adapting all measures for our customers and employees:
At our place everyone is welcomed with a smile! Please understand that our employees do not shake hands anymore and keep the necessary safety distance.
When you visit one of our branches, we would like to ask you to keep the necessary distance to other customers and our employees. If there are already several customers in the sales room, please wait a moment to reduce the number of contacts. We would like to reduce the risks to a minimum.
Online shop
Our shop www.reifen.com is still there for you. Here you can continue ordering everything as usual.
Branches
Our branches are still open and offer you the usual service all around the tyre. You can find the opening hours of the individual branches here: https://www.reifen.com/en/branches/. You are welcome to make an appointment via phone to reduce waiting times on site.
Customer service
Our customer service is available. Call us if you need consultation and/or information. We are there for you personally from 8 a.m. to 1.45 p.m. and 2.15 p.m. to 8 p.m. under the following telephone number: +49 511 123210 -10. You are also welcome to contact us under info@reifen.com.
Premium- and Fitting partners
Our premium and fitting partners are independent tyre service providers and car workshops. Please contact our partners via phone to discuss your service request.
Deliveries
The logistics service providers also adapt their services to ensure the safety of our employees and our community. We thank you in advance for your patience if there are any delivery delays.
Pick-up of your order in a branch
If you sent your order to our branch for pick-up, the order will wait for you there.