Nexen
185/65 R15 88T Winguard Snow G WH2
winter tyres
Online purchase
(Purchase online and have it delivered to desired address)
(Purchase online and have it delivered to desired address)
Delivery to a branch or premium partner
Commission Reifencom branch or premium partner garage with the execution of the contract and pay on-site.
Delivery time from 3 working days
ab
45
53
€
- Improved braking performance due to improved block stiffness, with 3D blades optimized for shoulder and middle blocks.
- Improved traction performance and grip on snow/ice thanks to micro-edge block shape.
- Improved lateral grip on snow due to half Z-groove in the middle.
- Improved performance on snow and wet roads due to increased stiffness in the centre block and the Z-shaped lamella in the centre.
- Reinforced water drainage in rain / snow due to round and V-shaped lateral grooves.

NEXEN TIRE All-round Protection Warranty
Only valid when purchasing four NEXEN tyres from the following product portfolio: N'Fera Sport, N'Fera Primus, N'Fera RU1, N'Blue HD Plus, Winguard Sport2 + SUV, Winguard Snow'G3, Winguard Snow'G WH2, N'Blue 4Season
It is guaranteed that NEXEN TIRE replaces the damaged tyres in case of:
- Impact damage
- Stab injuries
- Vandalism
- Theft
Excluded are damages due to:
- Overload or damages that can be traced back to a wrong tyre pressure.
- "Burnouts" (intentional wheels spinning) and "drifts" as well as all kinds of damages caused by a race on public and non-public streets.
- Inappropriate fitting, balancing and mounting of the tyre.
- Inappropriate storage and transport of the tyres incl. damages caused by weather conditions.
- Mechanically induced misalignment of the wheels or axles leading to increased or uneven tyre abrasion (wear).
- Fire
Download NEXEN warranty flyer
Register online here:
https://nexentire-garantie.de/
Please note: the warranty is only valid for consumers and dealers in Germany.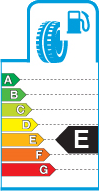 C1
Tyre labelling
Starting on November 1st, 2012 the new European Tyre Labelling Regulation EU/1222/2009, short EU Tyre Label, applies. This regulation applies for all newly produced tyres from CW27/2012. The EU Tyre Label informs about the criteria fuel efficiency, wet grip and external rolling noise, and is binding for all tyres of cars, light trucks, and trucks (C1, C2 and C3) across the EU member states. The aim of the EU Tyre Label is to increase the safety, environmental protection and economic efficiency of road transport by promoting fuel-efficient and safe tyres with low noise levels. Next to the EU Tyre Label you should continue to include relevant tyre tests as an important factor in your buying decision, as the new EU Tyre Label only tests three important criteria. This means that for instance neither the driveability of summer tyres on a dry road nor the grip on snow of winter tyres is tested.
The three criteria and valuation classes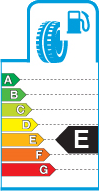 C1
Fuel Efficiency
The categorisation of fuel efficiency is made on a scale of seven classes: from A (greatest efficiency) to G (lowest efficiency), whereby class D is not used. An improvement from one class to the next more efficient class means an approximant saving of 0,1 l fuel per 100 km.


Wet Grip
The wet grip is subdivided into the classes A (shortest breaking distance) to G (longest breaking distance), whereby classes D and G are not used. When going 80km/h on a wet road, the difference in the breaking distance between adjacent categories (from one class to the following better class) is between 1 and 2 car lengths (3-6m).


C1
External Rolling Noise
The noise emission of a tyre has an effect on the total noise level of the vehicle and does not only influence one's own riding comfort, but also the noise pollution of the environment. In the EU Tyre Label the external rolling noise is divided into three categories, measured in decibel (dB) and compared with the European noise emission limits for external rolling noises of tyres. The general rule hereby is: The fewer black lines there are, the lower the external rolling noise as measured according to the EU limit.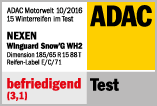 tested in 185/65 R15 T
ADAC assessment: satisfactory
If you do not want to buy the item in the online shop but on the spot, please select the local-spot-buy option. You can choose your nearest spot conveniently by entering your postal code or city.
Find a store and buy locally
Artikel verfügbar
(in 1 Werktag)

41,22 €
Preis pro Stück

Artikel verfügbar
(in 1 Werktag)

41,22 €
Preis pro Stück

Artikel verfügbar
(in 1 Werktag)

41,22 €
Preis pro Stück